Whey and Mass, are two outstanding nutritional supplements for gym-ers. The most obvious difference is that Mass is higher in calories than Whey per dose. Therefore, Mass may be suitable for people who are underweight, and unable to develop muscle.
In essence, both types can be used interchangeably if combined safely.
But that is not enough, it is also necessary to combine nutrition with exercise, and eat more fibre from green vegetables and fruits.
For those who have difficulty, practice forever cannot develop according to plan, then Mass will be a wise choice. In this article, I will point out the 5 Best Mass Gainers For Hard-gainers. This article is for you to have a closer look and choose an effective product for yourself.
WHAT ARE THE BEST MASS GAINERS FOR HARD GAINERS?
DYMATIZE
MUSCLE TECH
MUTANT MASS
BSN TRUE-MASS
MUSCLE TECH MASS TECH ELITE
| | | | | |
| --- | --- | --- | --- | --- |
| | | | | |
| | | | | |
| | | | | MUSCLE TECH MASS TECH ELITE |
| | | | | |
| | | | | |
| | | | | |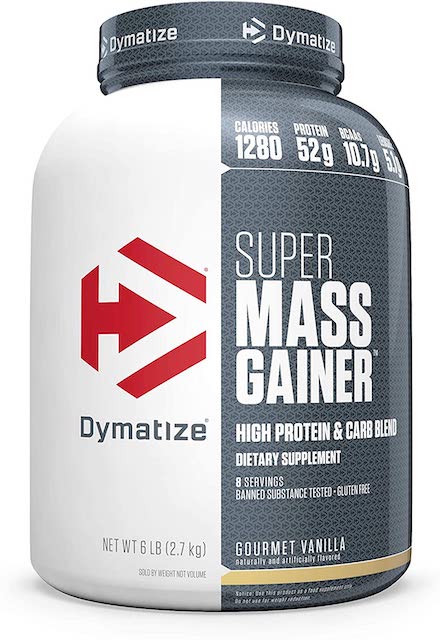 INGREDIENTS
Sunflower Creamer
Whey Protein Concentrate
Milk Protein Isolate
Whey Protein Isolate
Micellar Casein
Cookies Pieces
Calcium
Sodium
Vitamin A, C, D, E
WHY DO WE RECOMMEND DYMATIZE SUPER MASS GAINER?
This product provides 1310 essential calories and 245 grams of carbs per serving, combined with 52 grams of protein, even the most difficult of people will grow gently.
The manufacturer also adds a dose of BCAAs to help improve muscle mass and increase concentration during exercises. Super Mass contains Whey and Casein, helping to achieve quick and continuous effects. This is considered one of the products that bring about the most positive changes in energy supplementation, muscle conditioning and weight gain.
CUSTOMER REVIEW:
"I am really liking this gainer. The serving size is kinda monstrous, but I break it down into 4 equal portions for the 1200 plus calories and so far so good. Have tried many other weight gain products, and this is the only one that I'm finally seeing results. I've gained 11 pounds in less than 2 weeks. For me, that is huge. Taste pretty good, sometimes u add peanut butter or bananas. Will be buying again. No stomach issues."
"This s*** is amazing I've been 135 since high school and I'm 27 now everything I've tried before this just didn't work and tasted awful.

But this weight gainer here works and it tastes amazing my favourite is cookies and cream and I mix it with almond milk which makes it taste like I've cream I drink two shakes a day and eat the same way I did before starting the shakes my diet never changed my weight now is 161lb and climbing and I haven't even opened my 2nd bag yet I highly recommend for anyone trying to gain weight."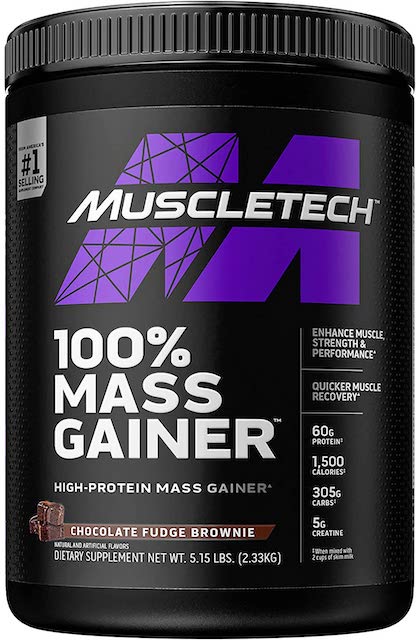 INGREDIENTS
Glutamine
Creatine monohydrate
Leucine
Isoleucine
Valine
Complex carb blend
Protein blend
Natural and artificial flavours
Cocoa extender
Cocoa
Calcium carbonate
Gum blend
Salt
Sunflower lecithin
Enzyplex
Acesulfame potassium
Sucralose
Medium chain triglycerides.
WHY DO WE RECOMMEND MUSCLETECH 100% MASS GAINER?
You won't get it wrong. This product gives you up to 1500 calories when mixed with 2 cups of skim milk, plus 302 carbs and 60 g of protein. Believe me, this is the treasure of those in need. This line uses high-quality protein sources, providing a great experience for strength and size development.
MuscleTech really did a great job in this regard, helping to improve the muscles perfectly and safely. The number 100% seems to confirm that nothing is impossible. For those struggling with hitting a new peak, there is currently no substitute other than MuscleTech 100% Mass Gainer.
CUSTOMER REVIEW:
"I really like this mass gainer out of all the mass gainers I've tried. I recommend adding some ice cubes and maybe a banana or fruit to your liking; adds an AMAZING taste to it. Tastes like a vanilla smoothie with the banana."
"It tastes as good as it really gets, never overpriced anywhere I buy it and there are even ingredients within it that help digestion. I would recommend this supplement to anyone and everyone as the first to take."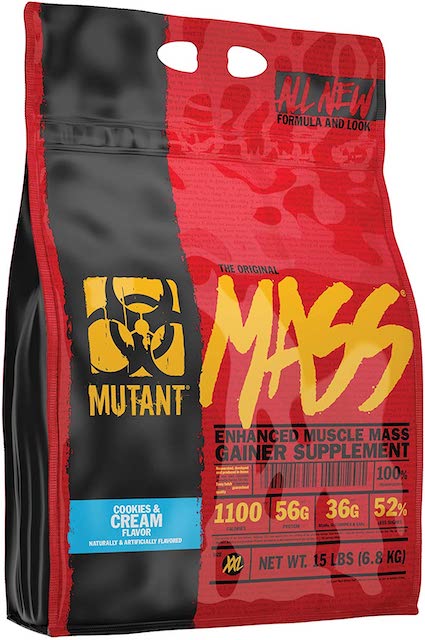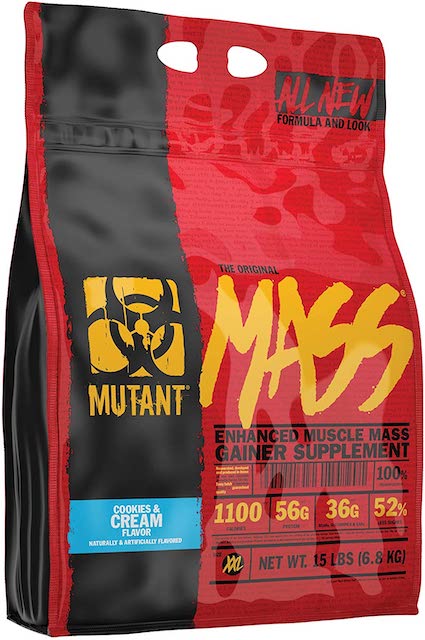 SPECIAL INGREDIENTS
52% Less Sugar than Previous Formula
Natural Whole Foods
INGREDIENTS
Waxy Maize Starch
Mutant Mass 10-Protein Matrix
Egg Albumin,
Whey Protein Hydrolysate
 Micellar Casein,
Calcium Caseinate
Milk Protein Isolate
Sodium Caseinate
Cocoa (Processed with Alkali)
Thickeners
WHY DO WE RECOMMEND MUTANT MASS WEIGHT GAINERS?
Because this is one of the most popular weight gain support products that any gym-er knows about it. This product uses natural ingredients, including barley, sweet potato, rolled oats, pumpkin seed and sunflower oil.
With over 1000 calories per serving and 56 grams of protein, it's sure to make it easy for beginners to set a new top. With the right combination of nutrition and exercise, plus this powerful food supplement, Mutant Mass will turn everyone's motivations into admirable results.
CUSTOMER REVIEW:
"This tastes so much better than I expected, this taste is better than Ensure to me. Blended up easy with no clumps, great quality ingredients, filled me up easily, no diarrhoea, no gas, will say for 52% less sugar it's still really sweet but just use more water. I would recommend this to anyone who needs a gainer they can use without all the bad side effects."
"I order this a few months back to help with healthy weight gain and have seen results. I have a single scoop shake in the morning and maybe one later at night if I'm feeling hungry but don't want another meal and have added 13 pounds without making any other adjustments to my diet or daily routine. This is a great gainer and tastes good with water, and better with milk (I had chocolate). Hope this helps people looking for gainers."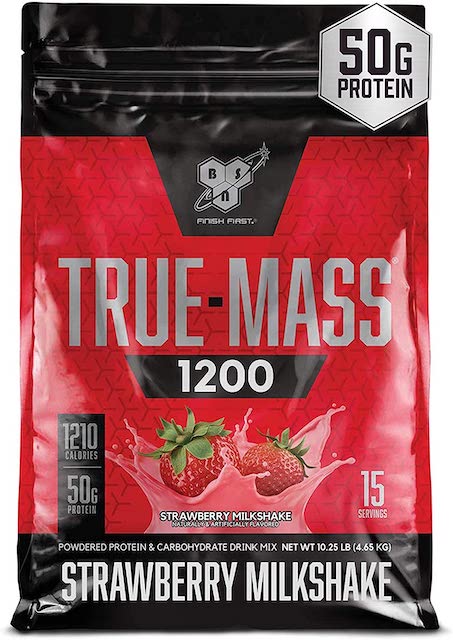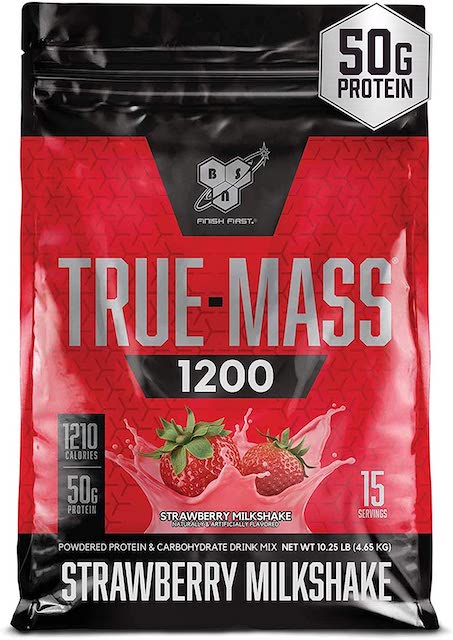 SPECIAL INGREDIENTS
2:1 RATIO OF CARBS & PROTEIN
ULTRA-PREMIUM PROTEIN SOURCES
NATURALLY OCCURRING BCAAs
INGREDIENTS
Protein Matrix Consisting of (Whey Protein Concentrate, Milk Protein Isolate, Whey Protein Isolate, Micellar Casein, Hydrolyzed Whey Protein, Wheat Glutamine Peptides)
Maltodextrin
Sunflower Powder
Natural & Artificial Flavors
Polydextrose
Medium Chain Triglycerides Powder
Soy Lecithin, Cellulose Gum
Xanthan Gum
Guar Gum
Acacia (Gum Arabic)
Acesulfame Potassium
Sucralose
WHY DO WE RECOMMEND BSN TRUE-MASS?
This product is suitable for those who have been exercising, but can't gain weight. With a source of absolutely quality nutrition, True Mass can definitely help you recover muscle, and develop your body to a higher level.
Hard-gainers often want to have a strong physique and energetic body, this product will support them without any problems. Remember that nutrition comes first. Choose a "Friend" that best supports you to achieve your desired weight gain goal.
CUSTOMER REVIEW:
"I started using this product 6 days ago. My starting weight was 125.4 lbs. I am now at 128.6 lbs so I have gained 3.2 lbs in only 6 days."


"The tastes are good, it's not chalky, and digests easily. No bowel movement changes or issues. I recommend using a blender for the best results. I personally use a magic bullet blender. For my size and metabolism, it's been difficult to intake enough calories to gain weight. These shakes make it super easy."
"This is my favourite meal replacement powder. I use this one and the 1200-calorie version daily, due to my inability to chew following radiation treatment. I like the chocolate and strawberry flavours the best."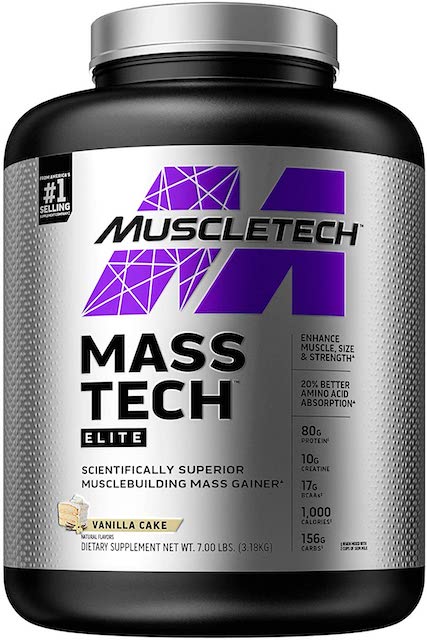 SPECIAL INGREDIENTS
Clean Protein
Included BCAAs
INGREDIENTS
Carbohydrate
Protein
Calcium
 Iron
Sodium
L-glutamine and co-factor
Creatine monohydrate
l-leucine
L-isoleucine
L-valine
Multi-phase carb complex
WHY DO WE RECOMMEND MUSCLE TECH?
For those struggling with muscle growth and bodybuilding, MuscleTech delivers more than what you want. With 1000 calories and 80 grams of protein, this product will help beginners enhance and restore muscle. Clean protein intake will also make weight gain easier and more effective.
Products also include BCAAs, help strengthen muscles and reduce pain during exercises. Newbies will often encounter this situation, so this will be a superior support product for them.
CUSTOMER REVIEW:
"This mass gainer is packed with 1000 calories, about 60 grams of protein, 10 grams of creatine, 160 grams of carbs, and BCAAs!!! You are basically getting three products in one. A perfect combination to build some serious muscle. It's definitely the best mass gainer I've had, and I will continue to use it. It mixes great and does not make you feel bloated which many have a tendency to do."
"My husband has gastroparesis. Lost 50 lbs. used Muscle Tech to help with the protein and to build mass. In 4 months went from 141 lbs to 163 lbs. took his BMI from 17 to 21. Love this stuff!! Tastes great too."
"Amazing product. I started using this product just a week and a half ago and I already gained 6 pounds! I haven't gone through the whole container yet as I'm using 4 scoops instead of the 5 recommended along with a banana, a spoon of PB and milk. Of course, I'm not just taking this by itself and that is not recommended. I've been eating like crazy (no dirty foods)."
SUMMARY
Each product is researched and developed by manufacturers with the aim of providing a clean source of nutrition, in order to improve a more balanced and healthy physique. Based on the above product reviews, we believe that MuscleTech Mass Tech ELITE Mass Gainer will be The Best Mass Gainer For Hard-gainers at a reasonable price, providing stable calories combined with outstanding benefits, helping them both gain weight and stabilize muscles.