Becoming a professional athlete is not an easy thing. It is trained and accumulated through years of effort, and hours of being strict with themselves. In addition to taking time to practice, they also always prepare for themselves a methodical eating plan. Bodybuilders are one of the typical examples, they need to take in more nutrients than normal people to be able to hold the muscle mass they have, as well as change them to become stronger.
Do not think that eating is a pleasure because bodybuilders have a very strict diet, the nutritional portion of their food must be checked, clean and quality. There are times when they can only eat the same foods over and over again, unlike us, can eat and drink anything we want.
But not 100% of everyone is like that, there is a saying that's "Work Smart Not Work Hard", around us there will be "countless invisible help" that we must embrace. So, how about bodybuilders? What do they eat? How can they keep their "Powerful" mass?
The answer is supplement foods. Of course, this is not bad, and it is not a fraud, this is just a supplement, as a "partner" only. Supplements will help them achieve greater goals thanks to essential nutrients being mixed together. And if you are curious to know what those products are, let's TrainRightMuscle review the 5 Best Weight Gainer For Bodybuilders.
Check – Average Height To body for Bodybuilding
Remember, supplements are only at their full potential when they are used as a help, not a meal replacement.
WHAT ARE THE BEST WEIGHT GAINERS FOR BODYBUILDERS?
SERIOUS MASS
OPTIMUM NUTRITION PRO GAINER
BODY FORTRESS WHEY PROTEIN POWDER
METABOLIC NUTRITION MUSCLEAN
ON GOLD STANDARD
| | | | | |
| --- | --- | --- | --- | --- |
| | | | | |
| | | | | |
| | OPTIMUM NUTRITION PRO GAINER | BODY FORTRESS WHEY PROTEIN POWDER | METABOLIC NUTRITION MUSCLEAN | |
| | | | | |
| | | | | |
| | | | | |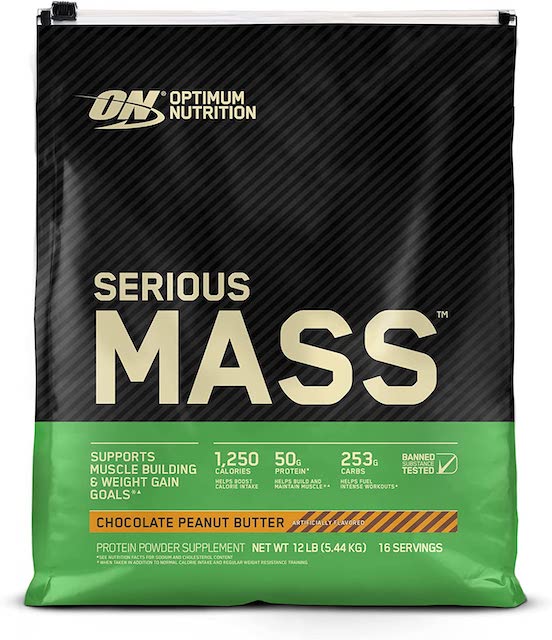 SPECIAL INGREDIENTS
Egg
Milk
Soy
Protein Blend
Natural and Artificial Flavor
INGREDIENTS
Vitamin B12 (as Cyanocobalamin)
Vitamin C (as Ascorbic Acid)
Folic Acid
Calcium
Phosphorus
Lecithin
Sucralose
Maltodextrin
Medium Chain Triglycerides
Potassium
Vitamin B6 (as Pyridoxine Hydrochloride)
Vitamin D (as Cholecalciferol)
Pantothenic Acid (as D-Calcium Pantothenate)
WHY DO WE RECOMMEND ON SERIOUS MASS?
With just a 2-scoop serving, you will get 1.250 calories needed, along with 50 grams of protein in each serving. This is indeed a "powerful" number every time someone mentions Serious Mass's weight gain support products.
Optimum Nutrition's products also bring remarkable results when added with 25 Vitamins & Minerals Plus Creatine & Glutamine, this is a safe and highly effective food supplement, very suitable for bodybuilders.
With a delicious combination of peanut butter and the sweet taste of chocolate, you will feel more appetizing and pleasant, bringing a mental refreshment to promote growth.
P.s: This product is not for use by those under the age of 18 or women that are pregnant, trying to get pregnant, or nursing.
CUSTOMER REVIEW:
"I found this product on Amazon and I take it every day. I went from 105lbs. to 154lbs. in 3 months! I have tried so many other protein supplements and medications with no luck. But this stuff really works! Thank you so much!!!!!"
"In 5 weeks I went from 103lbs to 115lbs (I'm 5'1), all I have been doing is weight training and making sure I'm eating in a surplus and drinking my protein shakes post-workout. The taste is absolutely amazing. Will be buying more."
"I've always struggled to gain weight I'm not a huge eater and I go the gym. Started taking this about 3 months ago, I was 8 stone 7 (I'm 5ft. 5) … Now I am 10 stone 1… I love this product and I have tried similar products in the past without results. Please AMAZON keep this at this low price!"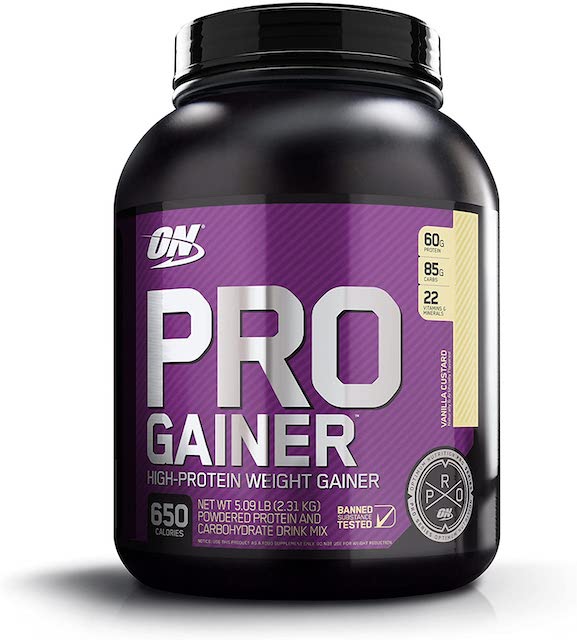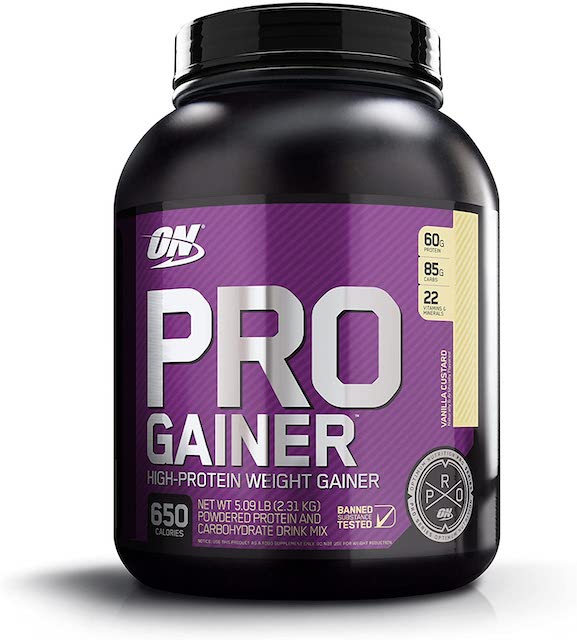 SPECIAL INGREDIENTS
High Protein
Protein Blend
Natural and Artificial Flavor
INGREDIENTS
Maltodextrin
Protein Blend (Whey Protein Isolate, Whey Protein Concentrate, Calcium Caseinate, Egg Albumen, Hydrolyzed Whey Peptides, Glutamine Peptides)
Cocoa (Processed with Alkali)
Lipid Blend (Medium Chain Triglycerides, High Oleic Sunflower Oil)
Partially Hydrolyzed Guar Gum
Lecithin
Vitamin/Mineral Blend
Salt
Carbogen
Sucralose
Acesulfame Potassium
Lactase
WHY DO WE RECOMMEND OPTIMUM NUTRITION PRO GAINER?
This product line has all the necessary nutrition, comprehensive support for energy recovery, muscle training and healthy weight gain.
This is one of the effective assistants for bodybuilders to help them overcome the barriers ahead.
Pro Gainer provides nearly 31 vitamins and minerals, over 600 calories per serving, and 60 amounts of protein. Speaking of this, we can also imagine how "top" this product is.
Bodybuilders not only focus on daily calorie consumption, but they also have to focus on vitamins and minerals, and nutritional supplements to help them train more effectively, and prevent muscle wear.
CUSTOMER REVIEW:
"I've tried four or five different weight gainers. I've also researched and compared ingredient and nutrition labels. This is the best quality weight gainer I've come across for several reasons. With ON Pro Gainer, you get 60 grams of protein and just 85 grams of carbohydrates. This ratio is far superior when trying to put on quality pounds/muscle."
"ON Pro Gainer uses an extremely high-quality protein blend. I can't imagine someone not loving the taste. If you're looking for a weight gainer, I can recommend this as the best one out there."
"I like this product a lot. Did see good weight gain for this one, has way less sugar so I like it a lot. Plus it goes well with regular or chocolate almond milk. Overall gained about 30 pounds since I started taking it back in April. So, I'll say still works alongside eating we'll just add this to your calories as extra."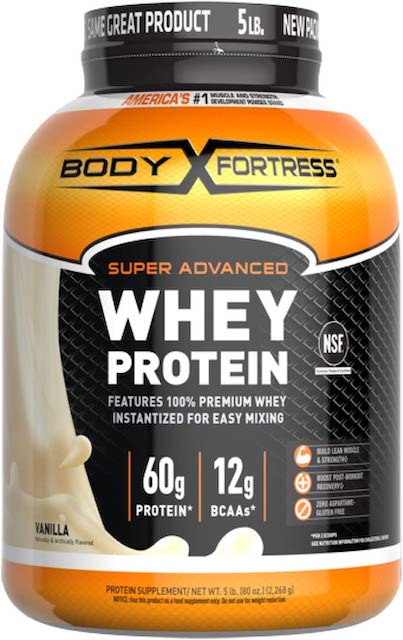 SPECIAL INGREDIENTS
zero aspartame
Gluten-free
Super Whey Protein Blend
Milk
Soy
INGREDIENTS
Whey Protein Concentrate
Whey Protein Isolate
Maltodextrin
 Soy Lecithin
Natural and Artificial Flavors
Cellulose Gum
Acesulfame Potassium
Sucralose
WHY DO WE RECOMMEND BODY FORTRESS WHEY PROTEIN POWDER?
With a simple yet effective formula, BODY FORTRESS will give bodybuilders the strength to work out harder and harder without spending a lot of time eating out. This product also adds a relatively appropriate amount of BCAAs, helping bodybuilders recover muscles after heavy exercise.
Just using Super Advanced Whey Protein, obstacles will no longer be a worry when armed with 60 grams of protein and large calories from super nutritious protein sources.
The product will be best used for pre and post-workout, or as a necessary support meal combined with the main meal.
CUSTOMER REVIEW:
"My husband has to try to gain weight and he mixes he ensure with this weight gain. And he really likes the banana cream."
"This product is filtered well and therefore mixes well. I usually use a blender but even in a shaker bottle, it mixes quickly. The protein grams to fats and carbs are great. I've been weight training and using supplements for more than 40 years and find this to be a superior product. It's difficult for me to gain weight but I have added about 7 pounds of muscle using this protein."
"Really good taste! Trying to help my son gain weight for wrestling and weightlifting. I add a tablespoon of peanut butter powder, half of a frozen banana, vanilla Greek yoghurt and 8oz of milk. Blend with ice and it's like a milkshake!"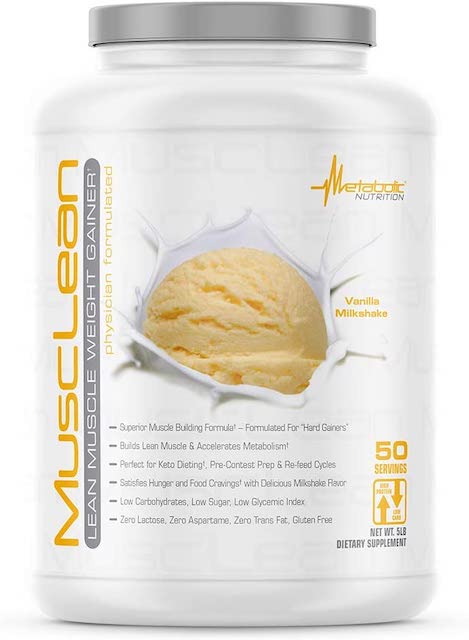 SPECIAL INGREDIENTS
Lactose-free
Gluten-free
Zero Aspartame
Low Sugar
Low carbs
INGREDIENTS
A blend of Ultra 10x-microfiltered enzymatically hi-absorption whey protein isolate and whey protein concentrate
Alpha-lactalbumin
Immunoglobulin
Bovine Serum Albumin
Lactoferrin
T.A.G. (Trans-Alanyl-Glutamine)
Maximum Potency Digestive Enzyme Complex
Vitamin Mineral
Low-Fat Cocoa powder
Lecithin
Xanthan Gum
Guar Gum
Natural and Artificial Flavors
Sucralose
WHY DO WE RECOMMEND METABOLIC NUTRITION MUSCLEAN?
For those who do not understand, the Keto (Ketogenic) Diet is a mode of reducing carbs, and increasing fatty acids, to help bodybuilders easily burn more energy, without having to follow strict diets. Getting fewer carbs also gave them a significant reduction in blood sugar, to help speed up their metabolism.
And those are the positive effects that Musclean brings. In addition, Musclean also provides from 213 to 639 calories, less sugar and cholesterol so that they can control their body every day, saving time, and fast.
It can be said that this is one of the safest functional foods because it is NO Fillers, NO Preservatives, NO Additives, NO Amino Spiking, but only focus on essential nutrients such as protein, vitamins, minerals, and essential fatty acid.
CUSTOMER REVIEW:
"I take 3 scoops twice a day for an extra 1300 calories on top of the 2500+ I consume daily and I've had really great results the past 3 weeks. I've jumped from 157 to 160 with very minimal fat gain. This awesome."
"I have tried a lot of different similar products. This one is by far has the best flavour, blends the best, has all of the additional vitamins, minerals and nutrients I am looking for."
"I love this product and have been using it for several years. It mixes very well and isn't powdery. You have to use ice wither in a blender bottle or blender."
"If you're looking for a protein powder that actually helps your body function at its best then look no further! Fats are essential, protein is essential, but carbs… not so much. Try this and you will not be disappointed!"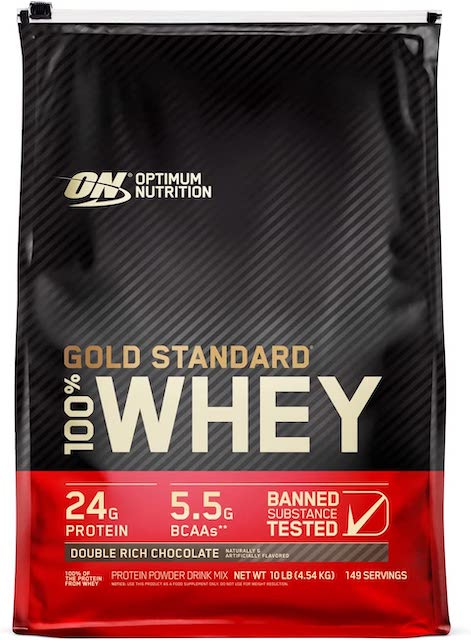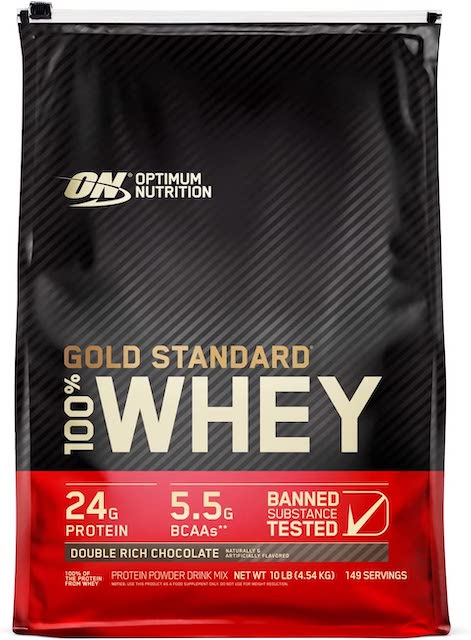 Serving
29 Servings
74 Servings
148 Servings
SPECIAL INGREDIENTS
Gluten-free
no sucralose
Less sugar
INGREDIENTS
Whey Protein Isolates
Whey Protein Concentrate
Whey Peptides
Cocoa
Lecithin
Natural and Artificial Flavor
Lactase
Acesulfame Potassium
Digestive Enzyme Complex
Vitamin Mineral
Low-Fat Cocoa powder
Lecithin
Xanthan Gum
Guar Gum
Natural and Artificial Flavors
Sucralose
WHY DO WE RECOMMEND ON GOLD STANDARD?
This is the second product to support the Keto Diet for bodybuilders, helping them not to spend too much effort training hard, but still ensure growth with the necessary nutrients. With a steady supply of calories, low sugar and environmental friendliness, this supplement will be an essential support friend they can count on.
They can easily control while they combine Gold Standard with the nutrition of main meals to ensure quality, and safety, improve training results and bring glorious victory.
CUSTOMER REVIEW:
"I'm in my mid-forties and picked up the weights again to get into shape and have been working hard at it. I wanted to supplement my diet with protein as I wasn't getting enough in my regular diet. I blend eight (8) ounces of skim milk with a heaping scoop of powder using my Ninja blender and it turns out perfectly every single time. In other words, it mixes very well and tastes absolutely delicious."
 "I'm a female weight lifter and I drink two shakes of the gold standard a day. My favourite is natural vanilla. It's light and sweet and easy to throw back. The DR chocolate was the only one available so I thought I'd bite the bullet and give it a try. Amazing as usual."
"We have used this protein for two years now. It's great stuff and we have transformed and sculpted our bodies with improved diet and exercise over the last 2 years to a degree I would never have believed as we are 58 and 60 years old. We're now in better shape muscle and weight-wise than when we were 40 or maybe even 30, we use this as a protein boost nearly every day."
SUMMARY:
Each product has different uses, but all have the same purpose, which is to help us achieve our needs effectively. Even athletes, too, each person will choose for themselves a way to absorb nutrition. Proper nutrition to balance time, health, and endurance. If you want to know how effective a product is, don't just look at the nutrition it has, but determine for yourself what you want to achieve first. In this article, we have listed popular products that bodybuilders believe in using, but among them will be different from the rest.
And that is why Body Forstress Super Advanced Whey Protein is considered to be The Most Supportive Supplements For Bodybuilders so that they can improve their strength and mass.