Protein powder is an essential part of our daily life with its tremendous benefits—it helps refuel the muscle, repair muscle tissues, satisfy your daily protein requirements. It helps to stay at an ideal healthy weight. Protein shakes and powders are extremely popular when it comes to fitness. You probably would have heard you're starting gym? Where is your protein powder? But the question that may come up in your mind is that we are not trying to get all bulky, like those heavy lifters. So why should we invest in protein powder?
Well, protein shakes are basically used so you can hit your daily protein requirements, it gets tough to hit your macros through food sources all day and it can get really boring to keep on cooking foods. This is where a protein powder is a handy option. Taking a scoop of protein powder right after an intense workout session, can enhance your muscle recovery period and give your muscle the nutrients it needs.
On the other hand, protein powder plays a vital role—Reduce craving and binge eating, convenient and easy to go, portable, nutritious, better workout performance and helps in muscle repair. Shakes are basically an easy way to increase your protein intake, which helps muscle development and further helps in the improvement of body function.
TrainRightMuscle Are Affiliates!
We hope you find the product you are looking for! So that you know, we receive a share of sales or other compensation from the links on this page. Thank you for using our links.
7 BEST PROTEIN POWDER TO HAVE
1) Optimum Nutrition Gold Standard 100% Whey
Price: $59   
You've probably heard of this brand. The gold standard has been on top for many years because of its amazing quality and reputation in the market. One of the ideal protein powders for muscle recovery. This is one of our favourite protein products with rapidly growing demand on Amazon. Moreover, ON protein powders have a great blend and are easily mixable in your shaker bottles. One scoop of ON provides 24 grams of protein with 5.5 grams of branched-chain amino acids which help to develop muscle and boost the recovery period. It's amazing how they keep check on each ingredient on this supplement and making sure it's perfect.
2) MuscleTech Nitro-Tech Ripped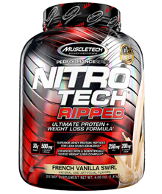 Price: $50.94
The most powerful formula created for the fast recovery of muscles. It comes in two exciting tasteful flavours which give you a great sense of satisfaction and energy. One scoop is providing 30 gram of clean protein which is fast digestible. This is an ultimate great protein to build strength, lean muscles, and a fast recovery period.
3) Dymatize ISO100 Hydrolyzed Whey Protein Powder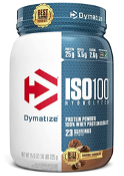 Price: $30
Dymatize is a well-recognized company selling a range of protein supplements. The most famous one is ISO100 hydrolyzed whey. Most of us are looking to feed muscle quickly right after a workout. This product is packed with essential nutrients that can be great for post-workout muscle recovery. Iso100 is a very low carb protein powder hence it is usually considered carb-free and it is fast absorbing which makes your recovery period faster. This friendly choice offers 25 gram of protein in one scoop and 5.5 grams of branched-chain amino acids. This product comes in six delicious flavours which give so many flavours to enjoy.
4) Optimum Nutrition Gold Standard 100% Casein Protein Powder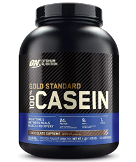 Price: $55.40
Another great product of ON supplements. This protein powder casein is a slow digesting protein which supports muscle growth and muscle repairing overnight. You're feeling hungry before sleeping and still thinking what to grab and feel tired to cook something. This product  is a handy choice. It would help you keep full. It is slowly digested and provides nutrients to your body for up to 6 hours. Well that's amazing right? The best time to take this protein is before sleeping so it can keep feeding your muscles when you're asleep. Moreover, this amazing high quality ON product is offering 24 grams of protein and essential nutrients like zinc and magnesium to keep you fit and healthier. The flavours like vanilla and chocolate are enjoyable.
5) Myprotein Impact Whey Protein Powder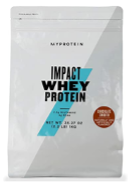 Price: $30
We couldn't forget this product. This high-quality whey packed with 21g of protein per serving, for the everyday protein you need from a quality source. It has been ranked Grade A for quality, quantity and value it provides. They make sure they produce natural whey by ensuring it comes from cows. It is then simply filtered and evaporated to produce high-quality natural whey protein. This product is gluten-free for people with gluten intolerance. It is a huge plus for the muscle recovery process and it supports muscle growth and building strength.
6) RSP TRUEFIT Cold Brew Coffee Protein Powder
Price: $40
If you prefer to workout early in the morning then this protein powder is best suitable for you.
RSP's protein powder is designed to meet your needs. More meal substitution than a simple protein shake, RSP TrueFit one scoop gives 20 grams of protein on top of a mix of 12 diverse superfoods that will leave you feeling full until lunch. Also, with their new Cold Brew Coffee flavour, you can eliminate each one of those morning espresso runs, in light of the fact that there are 100 milligrams of caffeine from genuine espresso beans. It is designed in a way that would give you a healthy start to the day.
7) Bare Performance Nutrition Whey Protein Powder
Price: $40
If you're more like who prefers taste and satisfaction over anything else then this product is made for you—This product comes in super exciting flavour and if you're looking to have a dessert-like feeling protein after your workouts then look no further—Bare Performance Nutrition has you covered. This product can even lift your mood up, as you're getting the protein, satisfying your craving with cinnamon Roll, Blueberry Muffin, and Nutter Bar Blast flavours and even helping you recover your muscle post-workout. It couldn't get any better than this!
Product Review
| | | | |
| --- | --- | --- | --- |
| PRODUCT | REVIEW | RATING | AMAZON PRICE |
| Gold Standard Optimum Nutrition  100% Whey | This product has been great for muscle recovery, muscle building. | 4.7 out of 5 star 4.7 out of 5   |    $59  |
| MuscleTech Nitro-Tech Ripped | The formula has been tested and proven to help repair muscle tissues and enhances recovery period |   4.6 out of 5   | $50.94   |
| Dymatize ISO100 Hydrolyzed Protein Powder | ISO100 is rapidly absorbed protein powder and delivers nutrients to muscle to repair instantly. |   4.6 out of 5     |    $30   |
| Optimum Nutrition Gold Standard 100% Casein Protein Powder 4 pound | Slow digesting protein powders which can be great if taken before sleeping to repair muscles overnight. |   4.7 out of 5     | $55.40 |
| Myprotein Impact Whey Protein Powder   | Myprotein has been ranked high as the company ensures that what you're getting from the product is all natural. |   4.5 out of 5   |   $30 |
| RSP TRUEFIT Cold Brew Coffee Protein Powder | RSP could be great to kickstart your day as it satisfies all your morning rituals. |   4.4 out of 5   |   $40   |
| Bare Performance Nutrition, Whey Protein Powder | This product comes in an exciting flavour that you'll never forget. Highly recommended for the people who always want delight in protein. | 4.7 out of 5 |   $40   |
In light of the wide variety of protein powders available on Amazon, it can get really confusing which one you should be picking. However, the answer is pretty much simple.
The Optimum Nutrition (ON) has been a top-selling protein powder for many reasons as they ensure what they're giving their customer is top-notch quality protein powder. Highly recommended!
MuscleTech Nitro-Tech Ripped, the ultimate formula, is packed with all the benefits which one needs. This protein powder is great for post-workout recovery, building lean muscle, enhancing strength and overall great for wellbeing. This product is also a plus from Optimum Nutrition as it also focuses on getting a lean physique apart from just recovery.
Dymatize ISO100 Hydrolyzed Protein Powder differs from Nitro-Tech and Optimum Nutrition. It is hydrolyzed whey isolate protein that quickly reduces muscle fatigue and soreness, and you can be all set and ready for the next workout. In addition, this protein is smooth and easily mixable in your shake bottles, even if you prefer with water, milk or smoothie.
Optimum Nutrition Gold Standard Casein Protein Powder is ideal for overnight muscle recovery and staying full all night long. In addition, casein protein powder is slow digesting, which is a great advantage for meal replacement.
Myprotein Impact Whey Protein Powder is a premium brand that focuses on all-natural sources to create a perfect protein blend. They make sure what you're putting in the body is completely all-natural.
RSP TRUE FIT Cold Brew – Coffee Protein Powder is a great start for the day. Providing all the energy you need to feel energized. The coffee protein gives you additional benefits from other protein brands. You won't be hustling in the morning to get a cup of coffee as this protein gives you additional caffeine benefits.
Bare Performance Nutrition, Whey Protein Powder is a great choice if you're more into taste and charm feeling when drinking the shake. Their combination of whey and casein protein with exciting flavours is all one needs in the product.
Get your hands on these protein powders for maximum recovery of the muscle and we bet you wont regret purchasing it.