This article contains the 5 best pre-workouts for tingling. Are you experiencing slight tingling, itching or burning on your skin while using Pre Workout?
This is not harmful to you; anyone will have this condition. This is completely normal if you use Pre Workout containing high levels of Beta-alanine or Niacin (vitamin B3).
The tingling sensation is like you are being pushed to increase your strength, then you will feel "hot" and want to exercise with higher intensity.
But if you feel discomfort or want to minimize it, you can cut down on the dose and divide it up during the day, avoiding using too much if you don't want to damage the skin.
Depending on the body of each person, this can take 15-30 minutes.
Compounds like Beta-alanine and Niacin are also very effective in training such as reducing fatigue, promoting nutrients into muscles, and increasing endurance. So, in this article, I will list the top products that contain the above amounts, in other words, the top 5 Best Pre Workout For Tingling.
What are the Best Pre-Workouts for Tingling?
Optimum Nutrition Gold Standard
Beyon Raw LIT
Redcon1 Total War
Nutricost
Kaged Muscle
| | | | | |
| --- | --- | --- | --- | --- |
| | | | | |
| | | | | |
| Optimum Nutrition Gold Standard | | | | |
| | | | | |
| | | | | |
| | | | | |
SPECIAL INGREDIENTS
Niacin
Beta-Alanine
Naturally and Artificially Flavored
OTHER INGREDIENTS
Creatine Monohydrate (as Creapure)
 Beta-Alanine,
L-Citrulline Malate
Citric Acid
Acetyl-L-Carnitine
Malic Acid
N-Acetyl L-Tyrosine
Silicon Dioxide
Calcium Silicate
Caffeine (from Tea and/or Coffee)
Gum Blend (Cellulose Gum, Xanthan Gum, Carrageenan)
Sucralose, Citrus Bioflavonoids
Tartaric Acid
AstraGIN (Astragalus membranaceus Extract (root) & Panax notoginseng Extract (root))
Nicotinic Acid
Acesulfame Potassium
D-Calcium Pantothenate
Yellow 5
Cholecalciferol
Thiamin HCl
Pyridoxine HCl
Folic Acid
Cyanocobalamin
Blue 1
WHY DO WE RECOMMEND OPTIMUM NUTRITION GOLD STANDARD?
This is a very reputable and experienced brand in the market, with a variety of products and what they bring, you will surely have a great experience. Gold Standard contains high levels of nutrients such as Caffeine, Vitamins, Niacin and Beta-alanine.
You will feel your best friend hotter and crazier than ever, more than 150mg of caffeine comes from a clean aroma source, 20mg of Niacin per serving, will help you become alert and focused on your immediate goals. Your endurance will be stronger with Beta-alanine, one of the amino acids that increases endurance by 13-14% before the body is exhausted, helping to prolong your muscle growth process. Impressive, isn't it? With 4 delicious flavors of fruit, watermelon candy, green apple and blueberry lemonade, Optimum is sure to conquer you.
CUSTOMER REVIEWS:
Here are the best and most honest reviews gotten from customers that used this product
"It's crazy, I love the hot feeling that the Pre workouts bring. My skin is starting to feel hot and enthusiastic, I would like to recommend this to everyone. A very good experience."
"Much better than other products. It can be combined with water, I mainly like the feeling of my body heating up because I need it to do more heavy lifting. Caffe is also just enough to keep yourself from having problems."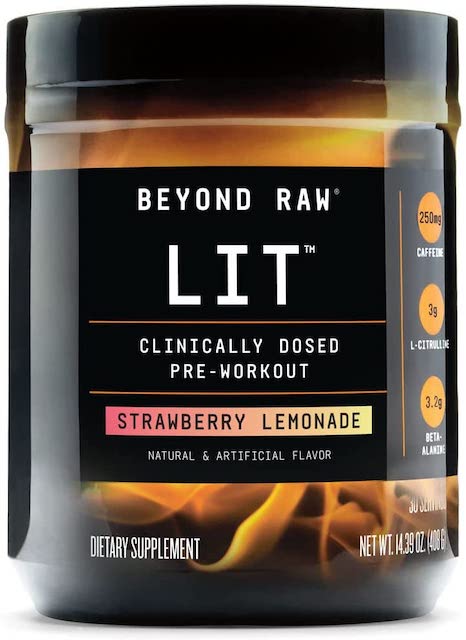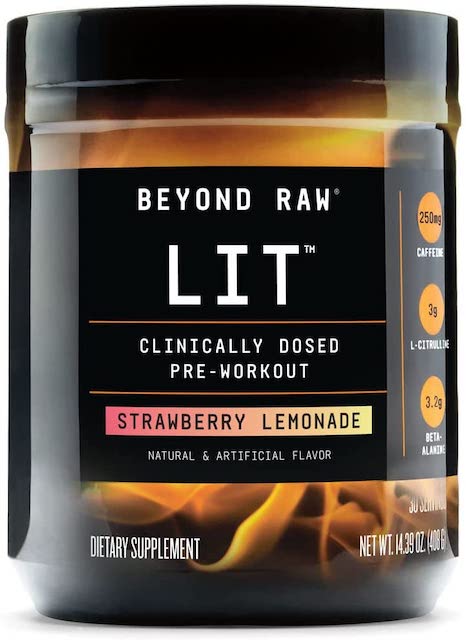 UNIQUE MATERIAL
Gluten-Free
Sugar-Free
High Caffeine
INGREDIENTS
Beta-alanine
Micronized Creatine
Caffeine Anhydrous
L-citrulline
Nitrosigine
Citric Acid
Tartaric Acid
Ancient Peat & Apple Extract
Oleic Acid
Sodium
Potassium
WHY DO WE RECOMMEND BEYOND RAW LIT PRE WORKOUT?
Beyond is a reputable brand with good quality compared to similar products on the market. In this product line, there will be 6 flavor choices for you. Using high quality Beta-alanine ingredients up to 3.2g. A burning sensation in your body will gradually show. Provides 250mg of caffeine anhydrous, no sugar and gluten.
Can be used on non-exercise days to ensure an even daily supply of energy for the body. Beyond has proven its coverage everywhere with more than 12,000 ratings on Amazon, you should try this product if you want to develop yourself further, this is not a bad idea.
CUSTOMER REVIEWS:
"It feels great, the taste is very easy to use, unlike other types. It is recommended to use 20 minutes before training time for a great experience. In the end, I have the toned body that I once wanted."
"I have tried many varieties and feel that Beyond suits me best, the most delicious I have ever used. Trust me, you'll know being Superman can lift a gym. An indescribable tingling sensation."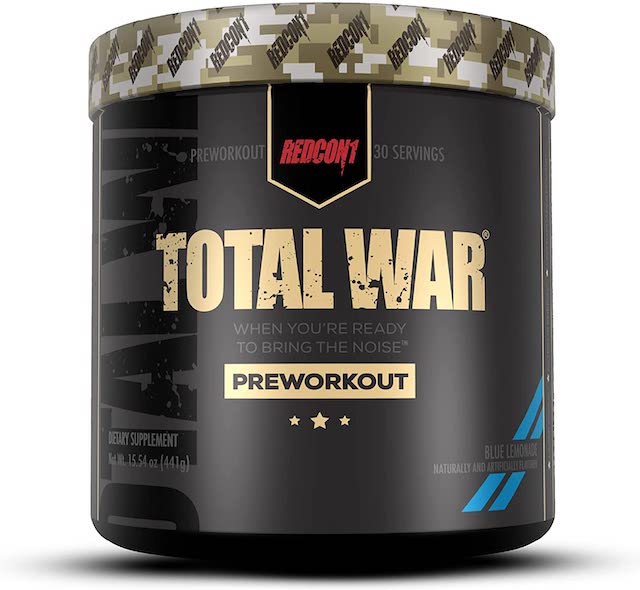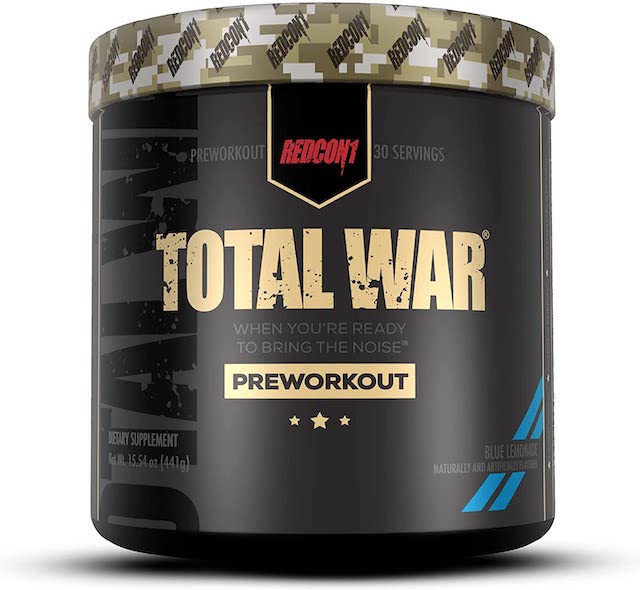 UNIQUE MATERIAL
High citrulline Manate
Beta-Alanine
High Caffeine
INGREDIENTS
Citrine Malate
Beta-Alanine
Agmatine Sulfate
Taurine
Caffeine Anhydrous
Amphibians
Di-Caffeinate Malate
Cocophenals
Naringin
BioPerine
WHY DO WE RECOMMEND REDCON1 TOTAL WAR PRE WORKOUT?
Total War is a must-have for anyone looking for a Pre Workout, as they give you more firepower than any other. Provides up to 2 types of caffeine, one that promotes alertness and focus and one that is combined with malid acid, to help fight muscle fatigue, increase endurance and reduce muscle soreness.
Total War also gives you a sufficient amount of Beta-alanine to make you feel hot and intensely hot, improving your repulsion and concentration. In addition, it provides up to 6g of Citrulline Malate, a compound that improves cholera performance and reduces muscle soreness by 35%. This product is more effective when used about 45-60 minutes before exercise.
CUSTOMER REVIEWS:
"It has up to 2 types of coffee, you will get twice the energy. In addition, the composition also has a lot of beta-alanine, the main reason for you to feel hot in your body. I realized I started to practice more, thanks."
"Completely awaken you! The effect was faster than I thought, I only used half of the prescribed serving but still got enough energy. You will notice how your skin feels after 30 minutes. Highly recommend this product."
UNIQUE MATERIAL
Non-GMO
Gluten-Free
High-quality vitamin
Niacin
Beta-alanine
INGREDIENTS
Vitamin B1
Vitamin B3 (Niacin)
Vitamin B6
Vitamin B12
L-Citrulline Malate
Beta-Alanine
Taurine
Agmatine Sulfate
L-Tyrosine, L-Theanine
Caffeine Anhydrous
Theobromine
Huperzine A
Natural Flavors
Beet Root Powder (for colour)
Calcium Silicate
Silicon Dioxide
Sucralose
Maltodextrin
WHY DO WE RECOMMEND NUTRICOST PRE WORKOUT?
With the recommendation from the manufacturer, Nutricost Pre Workout is best used 15-30 minutes before exercise, this is the most benign product and the best ingredients compared to the rest. Nutricost is also the product that contains the most vitamins including vitamins B1, B3 B6 and B12, enough nutrients to help maintain a steady state for the user's muscles and health. There is also almost 300mg of Caffeine and other compounds, including Beta-alanine and Taurine, which help burn fat and improve oxidation, enhancing your focus. Combining both Niacin and Beta will make your body burn like never before.
CUSTOMER REVIEWS:
"I find the price of this product is not expensive, it is very suitable because you get more nutrition, including vitamins to supplement. Use 30 minutes before and have a great skin feel, and great workout. Gluten-free."
"Not only is it a premium product, but it also contains many of the ingredients that I need. I highly recommend this product, I was able to lose fat and still get strong and toned muscles. The price is also reasonable. The best product."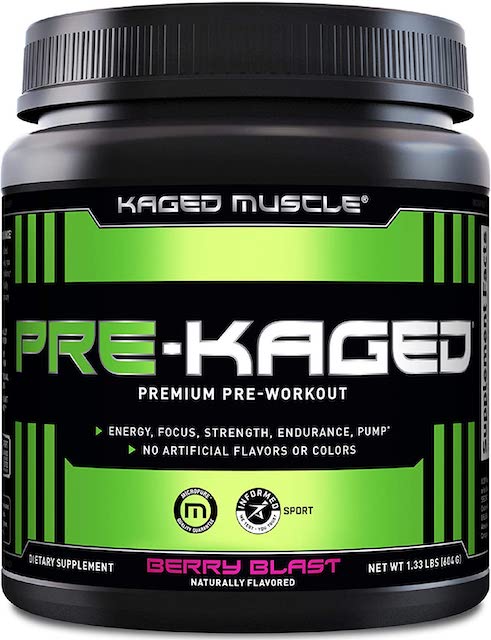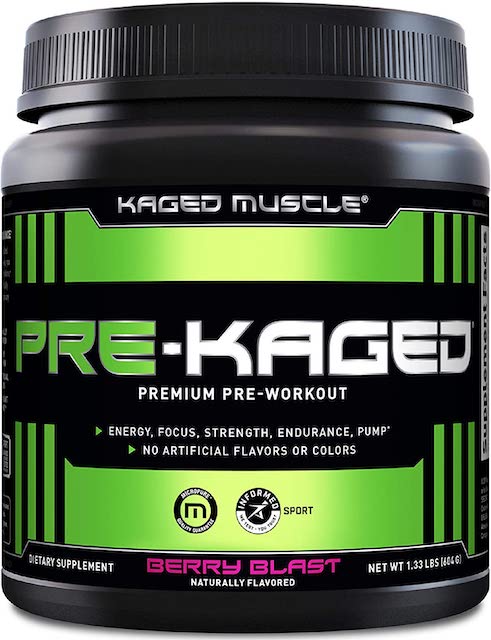 MATERIAL FEATURE
Natural Flavor
Many ingredients
3x per scoop
Niacin
High Vitamin
INGREDIENTS
Organic Caffeine
L-Citrulline
Beta-Alanine
Fermented BCAAs
Creatine HCl
Spectra Antioxidants
Taurine
Tyrosine
Citric Acid
Natural Flavor
Beet Root Extract (For Color)
Sucralose
Sea Sal
Silicon Dioxide
Calcium Silicate
Sunflower Lecithin
WHY DO WE RECOMMEND KAGED MUSCLE PRE WORKOUT?
Kaged is rich in nutritional ingredients compared to other Pre Workouts, extracted from green coffee beans and branched chain of BCAAs, providing a natural and guaranteed source of nutrition for gym goers.
Kaged is also equipped with a full range of uses for muscle growth, recovery and improved focus, significant strength through taurine, vitamins, citrulline and beta-alanine. At 30g in 1 scoop serving, you'll get 3x the dose compared to other varieties.
In addition, the product also combines both Niacin and Beta mixture enough to give you a slight tingling sensation, stimulating more exercise.
CUSTOMER REVIEW;
"Surprised because I get more quantity in 1 scoop serving, it really helps my workout, I stay focused and alert for a long time, workout also works harder thanks to the feeling tingling on the skin, very effective."
"In general, Kaged did very well, enjoyed the feeling of using, I really like the grape flavor, the feeling like myself being supplied with clean energy, health change more significantly, thank the manafacturer."
Overall Ratings
| | |
| --- | --- |
| Pre-Workouts | Trainrigthmuscle Review (out of 5) |
| 1. Optimum Nutrition Gold Standard | (4.6 Ratings) |
| 2. Beyon Raw LIT | (4.4 Ratings) |
| 3. Redcon1 Total War | (4.4 Ratings) |
| 4. Nutricost | (4.6 Ratings) |
| 5. Kaged Muscle | (4.8 Ratings) |
SUMMARY
With what has been summarized above, we choose Kaged to be the best product because it has more nutrients than the rest, the price is not too high, but it is very suitable for the quality that the manufacturer offers. bring. The tingling sensations are not toxic, it's just part of the feeling when using those compounds, to stimulate the training process, and you need to use according to the dosage they give, avoid using too much. much so as not to affect your digestion, your stomach.