One of the best and most effective ways to cut fat, shred or burn fat in the gym, Pre Workout is a top priority. Therefore you should know the Best Pre-Workouts For Shredding Fat.
Normally, when exercising, everyone wants to have a toned, healthy and slim body, but what about the case with a high percentage of fat? If you are not satisfied with the percentage of body fat, then in addition to cutting the daily carb intake, and maintaining a scientific exercise regimen, you should not ignore Pre Workout. This is the product that enhances the effectiveness of training and optimizes the most muscle in functional foods. They provide a variety of nutrients required for a process.
Each of us has a different starting point, but we all have a common goal, which is change. These foods will help increase the metabolic rate, burn fat and metabolize energy more strongly, you will feel yourself working out more efficiently and with more energy.
However, in order to be effective, you must know the ingredients in it. Readers should refer to the article below so that they can choose the right product for themselves. We will give you 5 Best Pre Workout For Shredding Fat, suitable for those who are not satisfied with their body fat percentage. And you won't regret it if you're the one to get here fastest.
What are the Best Pre-Workouts for Shredding Fats?
SIX STAR
CELLUCOR C4 ULTIMATE SHRED
CELLUCOR C4 RIPPED
EHP LABS OXYSHRED THERMOGANIC
MUSCLETECH VAPORX5 RIPPED
| | | | | |
| --- | --- | --- | --- | --- |
| | | | | |
| | | | | |
| | CELLUCOR C4 ULTIMATE SHRED | | EHP LABS OXYSHRED THERMOGANIC | MUSCLETECH VAPORX5 RIPPED |
| | | | | |
| | | | | |
| | | | | |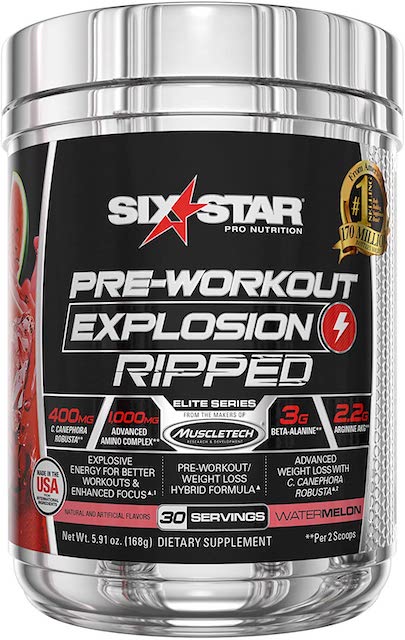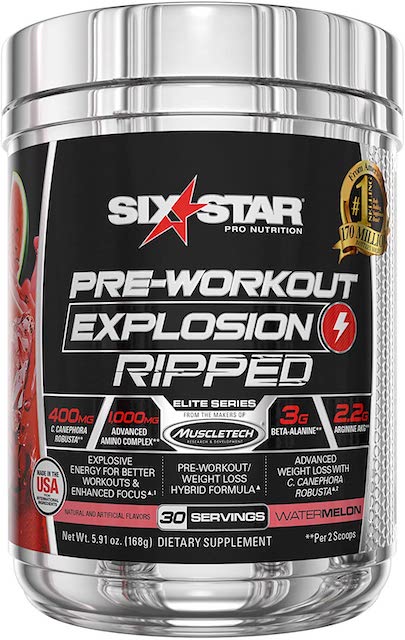 SPECIAL INGREDIENTS
Vitamin
Niacin
Amino Complex
Sugar-free
Low caffeine
Beta-Alanine
OTHER INGREDIENTS
Beta-alanine (CarnoSyn)
L-arginine alpha-ketoglutarate (AKG)
Advanced Amino Complex
Taurine L-citrulline
L-citrulline malate
L-arginine hydrochloride
Pre-Workout Explosion Blend
Caffeine anhydrous
Choline bitartrate
L-tyrosine
L-carnitine
L-tartrate
Green coffee extract
WHY DO WE RECOMMEND SIX STAR EXPLOSION RIPPED PRE WORKOUT?
Six Star has absolutely no added sugar, instead is a combination of amino acids, enhancing the circulation of nutrients and energy for the body. The amount of Beta-alanine contained in the ingredient will speed up the metabolism, combining with other nutrients to metabolize fat faster. In addition to enhancing training efficiency, Six Star also comes with a clean source of coffee to increase concentration and training efficiency.
The combination of Taurine and Citrulline will reduce the process of oxygen in the body, instead of increasing the amount of blood in muscle cells to release toxins inside, reducing fatigue when having to exercise a lot.
Six Star not only helps you shred fat but also controls your stamina and endurance more, manage stress to stay awake.
CUSTOMER REVIEWS:
Here are the best and most honest reviews gotten from customers that used this product
"I see that Six Star uses very clean ingredients, many people trust it, so I decided to buy me 1 product to try. And now I'm about to switch to the 3rd one, it reduces my fat significantly. I went from 76 to 68kg, a result I've wanted for a long time, taking this product very seriously."
"My body fat percentage has changed, My muscles are much clearer and stronger. Really thanks to the person who created them, burning fat is very effective."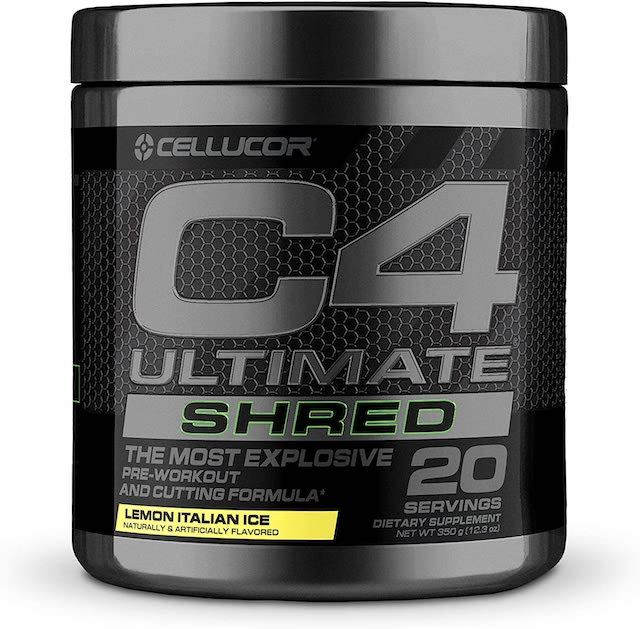 UNIQUE MATERIAL
No Sugar added
High vitamin C, B6, B12
INGREDIENTS
Citrulline Malate
CarnoSyn® Beta-Alanine
Betaine Anhydrous
Nitrosigine® Inositol-Stabilized Arginine Silicate
N-Acetyl-L-Tyrosine
Caffeine Anhydrous
Vitamin C
Vitamin B6
Vitamin B12
Folid Acid
Calcium
Taurine
Biorine Black Pepper fruit extract
L-Tyrosine
Theacine
WHY DO WE RECOMMEND CELLUCOR C4 ULTIMATE SHRED PRE WORKOUT?
This food will meet your fat loss needs; the nutrients have been clinically studied before being put on the market. C4 provides a large number of vitamins and Citrulline Malate, increasing blood flow to muscle cells, absorbing energy and burning fat more efficiently.
Uses a combination of Caffeine Anhydrous and other natural nutrients to convert fat into energy, control focus.
Each scoop serves up to 17g so you can get more nutrition. May cause mild tingling but it is a normal sign that the product is working (mainly Beta-alanine), or you can reduce the serving size accordingly.
CUSTOMER REVIEWS:
"This is great, I'm a 42 year old female and have been using this for a while. The more I use it, the more effective it is, it has helped me lose a lot of my fat, my belly back then was not as strong as it is now, and my muscles are not clearly visible, but now I can."
"The product is very good, no heart attack or stomach pain at all. I feel more confident using Cellucor products. Determine how much fat you want to cut, then try this, I think you will save a lot of time searching."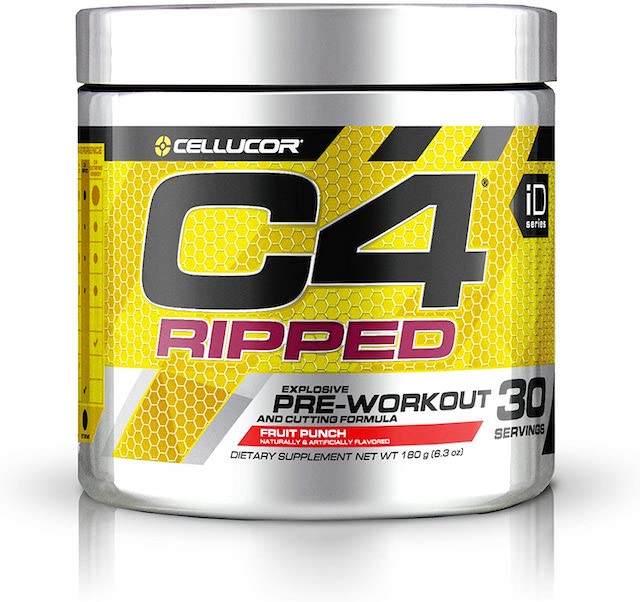 UNIQUE MATERIAL
Vitamin
Niacin
Sugar-free
Creatine free
INGREDIENTS
Beta-alanine (CarnoSyn)
Vitamin
Niacin
Green Coffee bean extract
L-tyrosine
Caffeine
WHY DO WE RECOMMEND CELLUCOR C4 RIPPED PRE WORKOUT?
This product differs from the C4 product above in its relatively lower cost, low in other nutrients and a focus on essentials such as vitamins, beta-alanine and caffeine anhydrous.
The manufacturer offers this product for those who want to get enough nutrition for the body, still meet the needs of losing weight, cutting fat and still increasing muscle size.
Up to 4 different natural flavours, equivalent to 6g per scoop and NSF certified by USADA and other organizations. The product uses moderate doses and is completely natural, so it can still be suitable for children aged 8 to 11 and teenagers.
The Pre Workout C4 series is confident that it has launched more than 2 billion successful products in the market and is showing signs of increasing thanks to its effectiveness and safety.
CUSTOMER REVIEWS:
"C4 Ripped is very effective guys, my son is 25 years old, he is a bit short and has a bit of fat, I recommend him to go to the gym, then also went online to find out food supplements and I chose this one. My son says he feels so much better. Thanks manufacturer."
"This version is so much better. Everyone should trust a reputable manufacturer, especially this Cellucor C4. It is really effective, in addition to losing fat, I also get a lot of positive energy to do other jobs."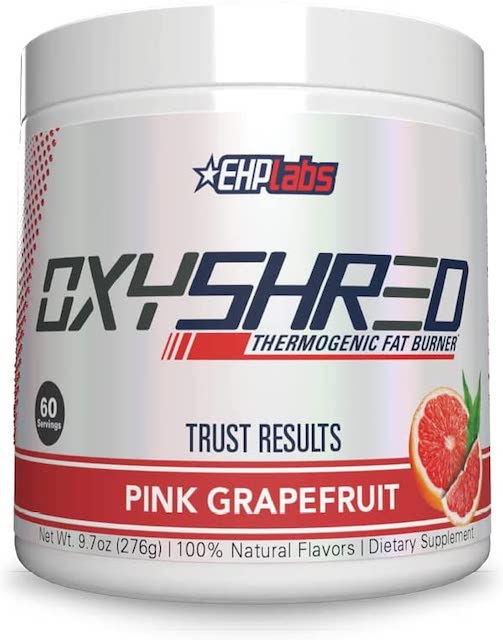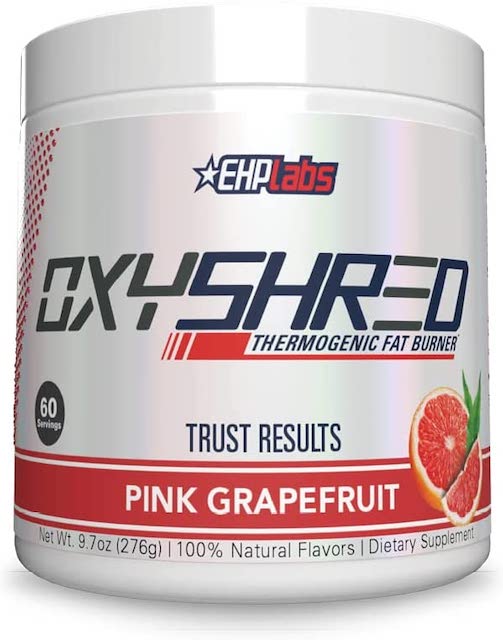 UNIQUE MATERIAL
No Soy
No Aspartame
No artificial food dyes/colours
INGREDIENTS
Dietary Fiber
Vitamin
Niacin
Riboflavin
L-Tyrosine
Caffeine Anhydrous
Sucralose
Malic acid
Beet Juice Powder (colour)
WHY DO WE RECOMMEND EHP LABS OXYSHRED PRE WORKOUT?
This is a product line that guarantees effectiveness with a high metabolic rate, all the stories of successful weight loss stem from here. OxyShred, a friend of all with the highest thermogenesis, helps you to complete fat with no risk whatsoever.
Using natural ingredients, free of chemicals and dyes, combined with effective training, you will be amazed by its results. The mixed ingredients found in OxyShred such as Caffeine Anhydrous, Taurine and niacin will improve training performance, you will feel less pain and fatigue when using full-body exercises.
Wide range of scents for picky eaters, an all-natural energizing product that will help you accomplish your goals.
CUSTOMER REVIEWS:
"This is amazing, I have changed a lot since using it. It doesn't make you jitter at all but focuses on providing more energy. I changed my eating plan and went with OxyShred to find the best version of me."
"True to the name, it helps you generate heat very well, I have successfully lost fat thanks to it, in addition, it also has Taurine, this is a nutrition that helps me and you can focus and stay awake more, the amount of caffeine reasonable, but not much."
MATERIAL FEATURE
No Sugar added
No Creatine
INGREDIENTS
Niacin
Sodium
L-citrulline
Beta-alanine
Taurine
Weight Loss Plus Matrix
Caffeine Anhydrous
Natural Flavors
WHY DO WE RECOMMEND MUSCLETECH VAPORX5 RIPPED PRE WORKOUT?
This is exactly a must-have product for those who want to shred fat or lose weight. If you are not satisfied with your body fat percentage, this is what you want. MuscleTech has enhanced performance and focused on fat loss, muscle mass regulation and intense focus through integrated nutritional sources.
There is exactly 150mg of caffeine in each scoop serving, helping you control fatigue, as well as the fat-burning process, is happening more smoothly, combined with C. canephora robusta to increase blood supply. for the heart, increase metabolism in the body. Accompanying it are amino Beta-alanine and taurine, increasing endurance and anti-fatigue for intense workouts.
Use Vapor X5 Ripped and you won't see I'm wrong.
CUSTOMER REVIEW;
"I feel that MuscleTech's Vapor is very effective for me, it has no creatine so it is suitable for someone with fat loss needs like me. The right amount of coffee to keep you awake and still burn fat perfectly."
"Wow, I get more clean energy from Vapor, I lift more reps. My next goal is to reduce my fat percentage to 8% and this is slowly helping me to achieve that."
Overall Ratings
| | |
| --- | --- |
| Pre-Workouts | Trainrigthmuscle Review |
| 1. SIX STAR | (4.8 Ratings) |
| 2. CELLUCOR C4 ULTIMATE SHRED | (4.4 Ratings) |
| 3. CELLUCOR C4 RIPPED | (4.6 Ratings) |
| 4. EHP LABS OXYSHRED THERMOGANIC | (4.4 Ratings) |
| 5. MUSCLETECH VAPORX5 RIPPED | (4.6 Ratings) |
SUMMARY
Pre Workout is a product that helps people improve their training and cut fat through the necessary nutrients, and that only works when you combine them with your daily workout time and eating plan. science. This is not a drug or a panacea, but it needs to be trained through the process and be effective over time. Product reviews are based on TrainRightMuscle's personal judgment and consult a number of1 customer opinions. And in order for your body fat percentage to be at the level that best suits your needs, Six Star Pre Workout will be a product line that is highly appreciated for its high nutritional composition as well as the most obvious effect.